Modified Nissan 180SX – The Ultimate Upgrades
Are you looking to build a modified Nissan 180SX? This guide will explain everything you need to know about essential upgrades to the legendary S-chassis.
---
Introduction
When someone plans to enter the world of racing, or especially drifting, most petrol heads will suggest a modified Nissan 180SX (S13 or 240SX) as one of the best entry-level options since the chassis makes for a near-perfect platform.
Thankfully, the turbocharged 180SX engines provide enough power to have the wheels burn rubber when going sideways, whereas the 240SX's naturally-aspirated KA24DE may need a little extra convincing!
There's another reason why the Nissan Silvia (S13, 180SX, or 240SX) is so sought-after in the racing and drifting market, both in the real-world, and in drift games.
The number of upgrades and modifications for the 180SX is near-limitless, helping the humble Nissan 180SX capture podiums at the highest levels of world drifting and racing for more than thirty years since its initial release.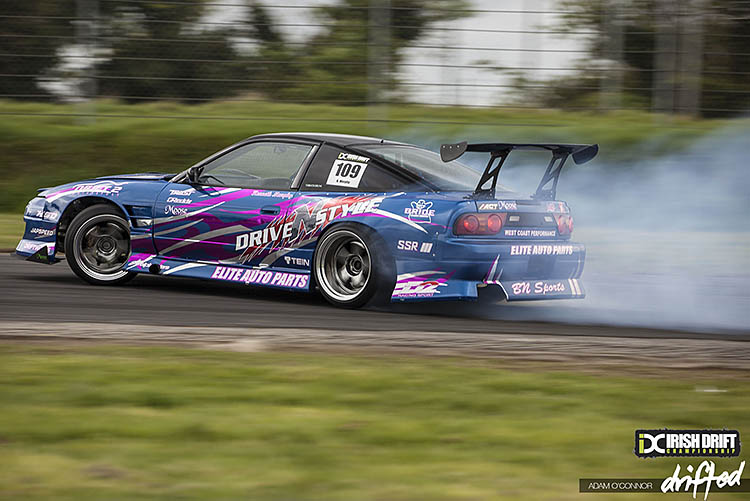 Let's look at the best ways to upgrade and modify the Nissan 180SX's engine, transmission, suspension, and brakes.
Firstly, while the chassis is legendary, Nissan caused plenty of confusion with the naming, so lets clear that up first. The S13 was named 180SX for the Japanese market, with the same architecture labeled 200SX for Europe and 240SX for the American model.
Now, for the upgrades.
---
Nissan 180SX/240SX/S13 Engine Upgrades
If your 180SX comes with one of the turbocharged powerplants, either the CA18DET or SR20DET, chances are there's plenty of power, with plenty of opportunities to squeeze out more conveniently.
Before switching to a more powerful forced induction system, ensure optimal airflow is provided to the existing engine.
Intake & Exhaust
The air filter is the main culprit for improper air intake.
Switching the air filter with an aftermarket compatible won't provide much change. However, a high-flow intake will see those horsepower numbers get up on the track.
In the case of the CA18DET, you can opt for the dual funnel APEXi Power Intake.
For the the SR20DET, one of the better options out there is the HKS Super Power Flow Filter.
Although it's not the cheapest option, replacement filters are more affordable and conveniently sourced than other obscure brands.
In the case of N/A engine variants of the 180SX, it is not worth the cash to switch to high-flow air filters in the absence of a turbocharger. Instead, going for a regular filter from a reputable brand will do the trick.
Getting the exhaust gases out of the engine is as essential as feeding air into it. Therefore, upgrading the exhaust system is the next critical step in squeezing out every ounce of power from the engine.
Generally, it is best to invest in an exhaust upgrade for your 180SX, 240SX, or 200SX.
The HKS Hi-Power exhaust is a cheaper yet reliable option that fits all 1989-1994 240SX and S13 models. Installation happens from the catalytic converter rearwards.
Here's a sample of a 240SX fitted with the HKS Hi-Power Exhaust:
Willing to spend some more cash for your exhaust? Depending on your budget, there are plenty of options out there.
If you're after the ultimate 180SX exhaust offering, the TOMEI Titanium Cat-Back Exhaust may be a perfect choice.
The TOMEI Titanium Cat-Back Exhaust fits all 180SX, 240SX, 200SX, and S13 engines without other alterations and provides unrivaled exhaust gas freeflow.
Here's a preview of the TOMEI Titanium Cat-Back Exhaust sounds on a modified Nissan 180SX:
Once you've carried out the simple bolt-on mods, you can decide what kind of end goals you want when it comes to power.
While some simple mods such as a turbo upgrade can be enough for a fast-road setup, you may want to consider going with forged internals if you've got substantial power goals.
ECU Upgrade & Modding
With more air in and out of the engine, the engine control unit (ECU) needs to be adjusted to handle the extra volume to convert it into horsepower and torque.
Generally, for a Stage 1 ECU tuning, you would want to check in with an experienced tuner. Altering the ECU map needs to be done carefully, as mishaps could have drastic consequences
If you're not ready or have the budget yet to meet with a tuner, a cheaper alternative is a plug-in option such as an OBD2 ECU Tuner.
Pre-modified for the Nissan 180SX, 240SX, and 200SX engines, these OBD2 tools will modify your standard ECU with tested, pre-configured mapping.
The results aren't as spectacular as with a custom tune, but your engine will respond better to acceleration, rev faster, and generally behave sportier. You may even see a slight improvement in mpg, too.
Willing to dig deeper into the ECU tuning world? There are plenty of options out there.
Although your tuner may recommend a specific aftermarket ECU, the Link G4+ for Nissan S14 SR20DET / S13 CA18DET is a perfect choice. But, admittedly, it does come at a price.
With proper soldering tools, you may also be able to mod the ECU yourself. Enthusiast forums are full of information on how to do it and what software to use for best results, but we advise proceeding with caution if you decide to go down this route.
---
Nissan 180SX/240SX/S13 Transmission Upgrades
For transmission upgrades, you'll need to consider your end goals first.
You'll need to think about whether they realistically align with the stock transmission or whether it's worth upgrading to handle the power.
The first scenario generally involves proper maintenance and replacing the flywheel, pressure plate, and clutch disc.
On heavily used 180SX and 240SX models (particularly the CA18DET and SR20DET), transmission mounts are the first to give in, followed by the input shaft.
Since your gearbox will witness even more abuse when planning to use the car for drifting, switching to high-grade mounts will help with vibrations and shocks.
These GKTech billet aluminum solid gearbox mounts are compatible with all S13, 180SX, 200SX, and 240SX transmissions.
Alongside the mounts, these are common upgrades for the clutch and flywheel:
Alternatively, cheaper options such as the ACT HD Clutch Kit will provide an ideal solution if you're not going for immense power.
Are you considering upgrading to a different gearbox for your 180SX/240SX/200SX? Especially for the SR20DET engine option, there are a few options to improve track times significantly.
For instance, the NISMO reinforced 6-speed installs easily on the 180SX and S13, providing stronger gears with shorter ratios.
Another popular choice for a modified 180SX is running the CD009 gearbox from the Nissan 350Z. The Z33 swap has become a more popular choice that is more modern and capable of handling more power than the previous tuners-choice RB upgrade.
Alternatively, you can choose a 6-speed sequential gearbox, especially for drift purposes. Finally, Quaife offers an SR20DET compatible gearbox explicitly designed for race and drift events with the added benefit of improved reliability, alongside faster and more precise shifting.
Thanks to its 90mm shaft, this sequential transmission is good for up to 750bhp. Here's a video of a sequential gearbox in action on a 400HP CA18DET:
---
Nissan 180SX/240SX/S13 Suspension Upgrades
With the power part settled, making sure your Nissan 180SX/240SX/S13 sits on the tarmac with all four wheels is another heavy point of interest.
Thankfully, the chassis is rather stiff and behaves well on the limit, straight from the factory.
With a stable base to work on, here are the main customizations one could do to boost suspension behavior and get the 180SX more stable, responsive, and agile when racing or drifting.
Coilovers
Lowering the ride height is the primary upgrade most Nissan 180SX owners do when preparing their car for racing or drifting.
In this case, the most common method is to replace your existing shock and spring setup with an all-in-one coilover upgrade.
You can go for cheaper, fixed coilovers for your car. However, we highly recommend going the extra mile by acquiring a set of adjustable coilovers.
Alongside the handling improvements, another benefit of adjustable coilovers over standard shocks and springs is the ability to fine-tune the ride height for different scenarios.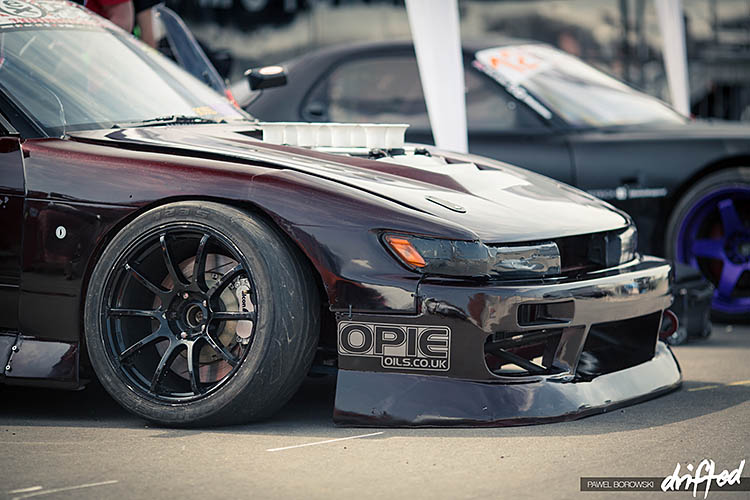 Thankfully, fitting S13 coilovers is a straightforward process that you can carry out from home with basic tools.
Make sure you choose your ride height wisely because if you plan on using your Nissan S13 as a daily driver, going around speedbumps and steep parking spots with a ride height set up for racing won't end well for your bumpers and underpinnings.
Depending on the level of performance you are expecting and the available budget, you can acquire a set of coilovers at a reasonable price, or spend well into the thousands for high-end parts.
Here's a video from Mighty Car Mods showing how to switch to coilovers on a Nissan 180SX:
Sway Bars
It is known among enthusiasts that most cars, including JDM models, come with an innate understeer bias.
This is done for safety reasons, as it gets the vehicle slightly tamer when driving to the limit. Yet, you might not want your 180SX/240SX to understeer on the track and lose valuable seconds around corners.
Opting for performance sway bars on the front and rear will improve cornering and get rid of the natural understeer.
A basic sway bar kit can be had for a reasonable price while better-performing adjustable sway bars will set you back a fair bit more.
The sway bar endlinks should also be ditched for heavy-duty versions when upgrading. Under heavy cornering, mixing performance sway bars with standard bar ends will likely be a recipe for disaster.
Tie Rods & Ends
Especially in drifting disciplines, an increased steering lock for an increased angle is mandatory to maximize the sideways potential.
In this case, extended tie rods are usually paired with strengthened tie rod ends to avoid strain or potential failure when under full lock.
---
Nissan 180SX/240SX/S13 Brake Upgrades
Once you've modified your Nissan 180SX/240SX to accelerate faster and corner better, making sure the car slows down or stops quickly becomes even more essential, especially when it comes to mishaps at the track, where you may need to avoid an imminent crash or spin-out.
Generally, going for standard OEM parts for increased braking performance won't yield drastic improvements.
Instead, although more expensive, switching to a big brake kit, such as the Wilwood Superlite Red, guarantees huge increases in stopping power.
Switching to a big brake kit on your Nissan 180SX isn't a cheap upgrade, with performance brake kit prices starting at roughly four figures.
Building your kit by acquiring calipers, rotors, pads, and brake lines separately might help reduce costs but will require some additional research to ensure components fit together.
Upgrading brakes on all four wheels is recommended, especially if you want to use your modified Nissan 180SX for drifting or racing.
In the same manner, big brake kits for all four wheels are available starting at roughly $2000, and the price can go up depending on what brands and quality you are after.
Alongside the likes of Wilwood, other high-performing brands include StopTech (US-based) and DBA (Australia-based).
5-lug Hub Conversion
The standard 180SX chassis comes standard with 4-lug hubs.
While converting to modern 5-lug hubs doesn't improve performance, it allows for a wider variety of brake kit upgrades.
The OEM part number for 180SX/240SX/200SX 5-lug hubs is 40200-0V010.
Whether you want to go for 5-lug hubs instead of 4-lug ones should be done early into the upgrade process.
Switching the number of lugs won't just open the window for brake kits but will also impact what aftermarket wheels you can run on your modified Nissan 180SX.
Hydraulic Handbrake Upgrade
A hydraulic handbrake is a must if you're preparing your Nissan 180SX/240SX for drifting events.
In this case, the need for either multi-pot rear calipers or a dual-caliper configuration on the rear axle is also mandatory.
Depending on the option you are aiming for, ready-made kits are available. For example, this Wilwood Dual Caliper system works with the 240SX.
The kit is designed to work with standard 9mm thick rotors. Switching to more oversized rotors will require different calipers.
Here's a video on how to install the dual caliper assembly on a Nissan S13:
---
Conclusion
Getting a cheap JDM chassis and slapping the same amount of junkyard parts will likely generate some performance gains.
However, when you want to appropriately modify a Nissan 180SX/240SX for the track or drift arena, going through the steps mentioned above will ensure that your engine will generate more power.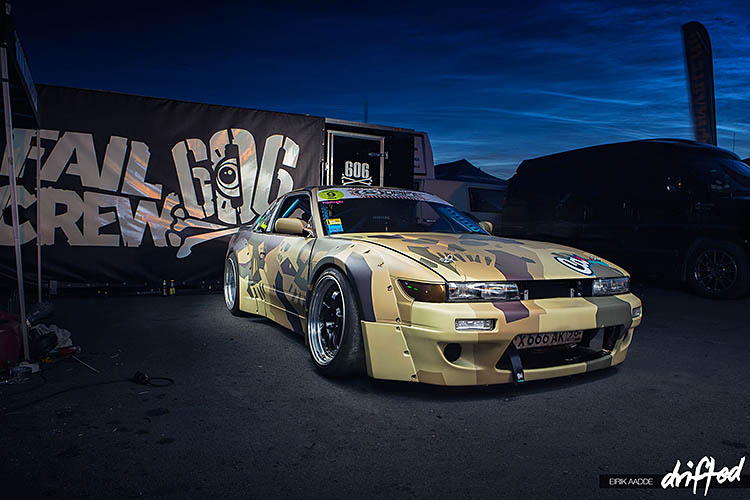 At the same time, the suspension will allow you to set an ideal ride height, provide the best handling, and keep the car stable.
The brakes will shed those seconds off the lap time and provide the ultimate control when you need it most – perfect for those late braking moments or unexpected drifting mishaps!
So, there we have it! We hope that we've covered everything you could want to know about Nissan 180SX modifying in this guide.
Thank you for reading our modified Nissan 180SX guide.
If you enjoyed this article, please share it with the buttons at the bottom of your screen. If you've found this information useful, then please take a moment to share it with other Nissan 180SX and 240SX enthusiasts. We appreciate your support.